13th International Conference "Methods of Absolute Chronology"
5-7th June 2019, Tarnowskie Gory, Poland
GENERAL INFORMATION
The multidisciplinary conference will concern the following subjects:
Methods of absolute chronology and their application in Quaternary geology.
Dating methods and creation of absolute time scales for paleoclimatic reconstructions.
Isotopic methods in research of paleo- and modern environment.
Dating the archaeological objects.
The scientific programme of the conference includes plenary and poster sessions. The working language of the conference is English.
The conference will be accompanied by a workshop for young scientists. Two morning lectures covering the basics of isotope and dosimetric dating methods will be delivered on 6th and 7th June.
CONTRIBUTIONS
Please register and submit your abstract on the website and indicate preferred session and presentation form (oral/poster). In case of a large number of oral presentations, some contributions may be moved to poster sessions upon the decision of the Scientific Committee.
The accepted presentations will be published in the open-access journal "Geochronometria", following the regular reviewing procedure. We have secured funding to waive a fee for selected manuscripts.
THEMATIC SESSIONS – preliminary list
Depending on the scope of received abstracts the following list may be updated by the Scientific Committee:
Methodological updates
210Pb and 137Cs
Dating applied in Earth Sciences
Dating applied in Archaeology
Terrestrial archives
COSTS
Conference fee
Professional
700 PLN (ca. 165€)
Student
550 PLN (ca. 125€)
Accompanying person
550 PLN (ca. 125€)
The conference fee is 700 PLN (ca. 165 euro). The fee for students and accompanying persons is 550 PLN (ca. 135 euro). The early registration and payment before 31 January 2019 is possible at a reduced fee: 600 PLN for regular participants, 450 PLN for students and accompanying persons.
The fee covers admission to conference sessions, book of abstracts (for participants), coffee breaks, lunches, ice-breaker dinner (5th June), gala dinner (6th June), and a conference kit.
The fee should be paid in advance in PLN (Polish zloty) by a bank transfer to the following account:
ING Bank Śląski SA O/GLIWICE
Zwycięstwa 28
44-100 Gliwice, POLAND

BIC/SWIFT Code: INGBPLPW
Account No: PL 60 1050 1230 1000 0002 0211 3056


When making your bank transfers please quote clearly your name and that it is conference fee payment for 13th Conference MACh2019
VENUE
Tarnowskie Góry is a town in Silesia (southern Poland), located in the Silesian Highlands near Katowice (25 km) and Gliwice (20 km), and conveniently close (15 km) to the Katowice-Pyrzowice airport.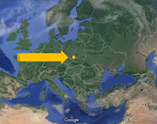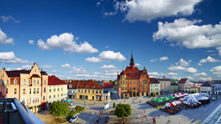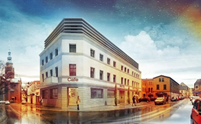 The conference will be held at the Opera Hotel (ul. Zamkowa 1, 42-600 Tarnowskie Góry, Poland), a minute walk from the Town Square, adorned by old romantic Renaissance buildings, a 17th-century Protestant church, an impressive town-hall. The area is spotted with bars and restaurants. On the outskirts of the town a swim can be taken at the Water Park.
ACCOMMODATION
The accommodation will be managed by hotel reception. Please contact the hotel via e-mail (hotelopera@wp.pl) and include "MACh 2019" in a subject to make your reservation.
The Opera Hotel has a limited number of rooms (27 rooms, 50 beds), please book ASAP.
Single room with breakfast: 180 PLN / person
Double room with breakfast: 100 PLN / person
Hotel Opera manages also economy beds with shared facilities in a nearby separate building (45-55 PLN). Please contact hotel reception (hotelopera@wp.pl).
Other nearby accommodation choices are listed below.
Hotels:
Budget accomodation:
Kropka Restaurant and Rooms, near Aslan Hotel
Guest rooms on Opolska 43, 1.1 km, 14 min. walk
Camping
Camp9, 5 km (10 min. by car, accessible by local buses too) should you wish to stay closer to the nature.
CONFERENCE TRIP
The trip to the Historic Silver Mine in Tarnowskie Góry (a UNESCO heritage site) will be organised.
IMPORTANT DATES
| | |
| --- | --- |
| Submission of abstracts and registration | 31 March 2019 |
| Abstract acceptance | 12 April 2019 |
| Payment | 21 April 2019 |
| Third circular | 15 May 2019 |
| Conference | 5-7 June 2019 |